Core Skills and Fitness Rugby Training Drills
Rugby has been likened to a war game, with tactics and game play being backed up by core skills and fitness. To excel at the game, one needs a balance of the two. In this article, we will look at a  few key fitness and core skills exercises which can be conducted both on and off the field. Enter rugby training drills.
Most of them involve the ball, which is a great motivator as many players find ball work much more rewarding than pure fitness training. Please note that these exercises are for a pair of players, not individual work.
Rugby training drills are an important part of improving yourself and your team. Many of the rugby sites online which offer these rugby training drills will also offer some NRL betting tips for those who have a real love of the game, and are eager sports bettors
Truck And Trailer
This exercise improves both cornering and ball passing in tight spaces.
Draw a small square on the frilled using tape or chalk, about 5 meters by 5 meters.
The "truck", runs around the square as a balanced but fast pace, while the "trailer" tries to stay as close behind him as possible.
While running, small pop passes between the two should occur
Keep this going for one minute intervals with 2 minutes rest in between.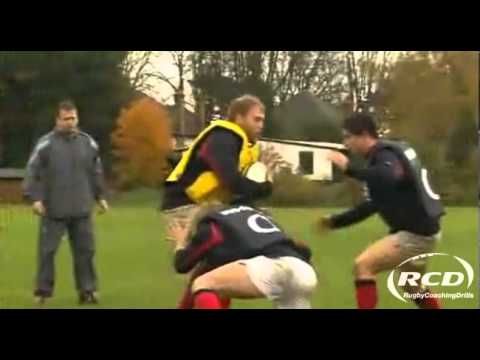 Relay Races
Much of the game relies on a sudden burst of speed and power in order to score a try, or catch a ball. Although relay races are common enough to be played at most high school athletics meets, they make a great rugby exercise too.
Set up two cones about 50 meters apart
Each player has to race around the cone carrying the ball and pass it to the other player when they reach the start again.
This can be done by more than one team to add to the competitive edge or involve a third person to time you to see if you can improve.
Bending Poles
Bending poles or agility poles are a great way to improve balance as well as speed and agility. Being able to alternate your weight to each foot is imperative to this exercise.
Set up a series of poles which are either solid into the ground or in buckets filled with sand, about 2 meters apart.
Each player has to run down the line of the poles, weaving in and out as one would do in a slalom ski course.
Time the runs to see who is the fastest and whether you improve or not.
This can be extended by setting up two courses and carrying the ball throughout the course.
Continuous Defending
This exercise requires three players. In this set of rugby training drills both speed and tactics play a part, increasing the core skills of tackling and dodging. No equipment is needed other than a ball and the three players.
Two players have to beat one defender by drawing and passing between themselves,
Initially, the defender tackles by using a two handed touch, although this can be extended to proper tackling for more advanced players.
As soon as the player's score, the initial ball carrier becomes the defender, the scorer becomes the initial ball carrier, and the defender becomes the support player.
This continues for 30 seconds to a minute, with 2-minute breaks in between.